HowToPronounce 2020
Contributor Certificates
Are you a person who selflessly contribute your audio pronunciations to HowToPronounce.com? Keep doing the awesome work, and when you complete submitting 500 audio pronunciations within this year, you will be able to avail HowToPronounce Contributor certificate which you can use in your CV or LinkedIn profile.
At HowToPronounce, we appreciate the enthusiastic contributions we have received from our beloved HowToPronounce community who has become a significant part of HowToPronounce.com. And as a gesture to reward its active contributors, HowToPronounce awards all of its users who have contributed up to 500 or more audio pronunciations in a year.
The HowToPronounce Contributor certificate is more than a token of acknowledgment to thank our contributors. Anyone who has obtained the HowToPronounce Contribution certificate for their contribution of audio pronunciations, meanings, synonyms, and other elements that strengthen HowToPronounce.com, can mention it in their CV, LinkedIn profile or any other network where the contributor deems appropriate.
What are the requirements to attain HowToPronounce Contributor Certificate?
The HowToPronounce Contributor Certificates are awarded annually to those who have submitted at least 500 or more audio pronunciations in HowToPronounce.com during a calendar year (Jan 2020 to Dec 2020).
If you have submitted more than 500 audio pronunciations in a single calendar year, you will have the ability to download a registered certificate that acknowledges their proficiency in pronunciation.
What is the frequency of the emission of HowToPronounce Contributor certificate?
The certificates are issued for each calendar year and are registered. They also carry a digital signature proving the authenticity of the certificate. The authenticity of this document can be checked by entering the digital signature generated on the web:https://www.howtopronounce.com/validate/certificate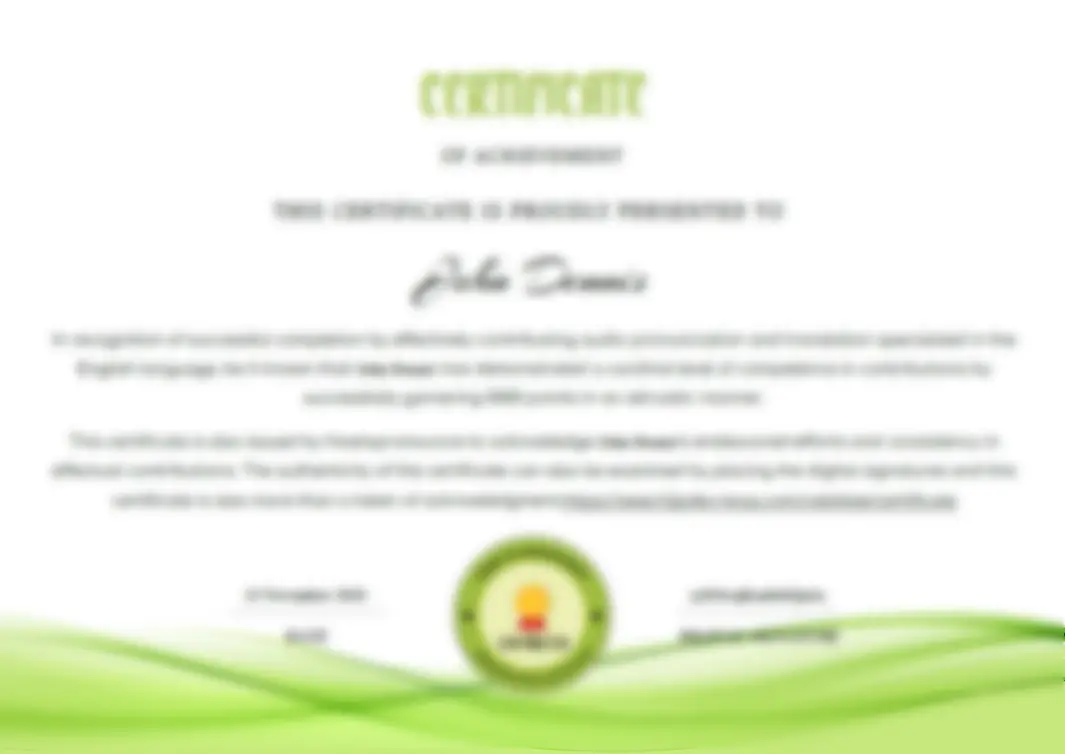 The confidentiality of HowToPronounce Certificates
The full name provided for the preparation of the certificate will not be used by HowToPronounce.com in any situation other than generating the HowToPronounce Contributor certificates.