Preview (10 questions)
Q.
Reptiles are _______ breathing vertebrates covered in special skin made up of scales, bony plates, or a combination of both.
---
Q.
All reptiles are cold blooded.
---
Q.
Tuataras are reptiles belonging to the genus Sphenodon, found in ___________.
---
Q.
Reptiles first appear in the fossil record how many years ago?
---
Q.
Snakes and Lizards are reptiles and they smell with their __________.
---
Q.
These are one of the methods of reptiles to defend themselves from dangerous situations, except:
---
Q.
Does a reptile reproduction depends on temperature?
---
Q.
The size of reptile's brains relative to their body is much _________ than that of mammals.
---
Q.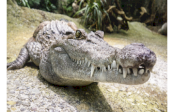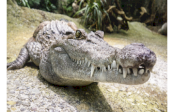 Identify this reptile by the image.
---
Q.
This reptile is famous for its quick color-changing ability.
---
Trending on HowToPronounce